Welcome to the website of the parish of Our Lady Help of Christians, Navan Road, Dublin. Registered Charity Number 20016166. The parish is part of a Grouping of Parishes with the parishes of Most Precious Blood Cabra, Christ the King Cabra and St. Peter's Phibsborough, in the Archdiocese of Dublin.
DIOCESAN SYNODAL PATHWAY
Archbishop Dermot Farrell launched the Diocesan Synodal Pathway at a Ceremony in St. Mary's Pro-Cathedral on Sunday 17th October. This Synodal process will take place from October 2021 to February 2022.
We pray that here in the Parish of Our Lady Help of Christians you will join us on this voyage.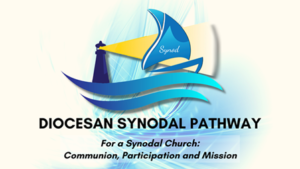 This Logo for the Archdiocese Synodal path is inspired by the phrase
'We are all in the same boat'
The lighthouse represents the guiding light of The Holy Spirit
The boat represents the Church, the People of God journeying together
The water represents the waters of baptism and the equality of all baptised.
More Information on the Synod to follow in the coming weeks……
TRIDUUM IN HONOUR OF ST. POPE JOHN PAUL II
Wednesday 20th, Thursday 21st & Friday 22nd at 9a.m. & 10a.m. Masses
Special Mass at 7.30p.m. on Friday 22nd Feast Day Of St. Pope John Paul II
Prayer Intentions can be placed in the Prayer Box on the Altar. They will be prayed for during all Masses of the Triduum.
Novena To St. Pope John Paul II
Opening Prayer each day:
Merciful God, I pray with thanks and gratitude for the great spiritual gift of Saint John Paul II's apostolic life and mission. Through his heavenly intercession, please grant the following petition(s) . . . Here state your request(s).
Grant also that I may grow in love for You and proclaim boldly the love of Jesus Christ to all people. Through Christ, Our Lord. Amen.
Day 1
Dear Saint John Paul, you preached: "The future starts today, not tomorrow." As I start these nine days of prayer with you, I thank you for reminding me that with God's help, I can begin again, but I need to start now, not at some distant point in the future. Your words are encouraging and inspiring to me. Please be with me as I progress through these nine days of prayer with you.
Dear Lord, You are the greatest Healer. You gave Saint John Paul II to the entire world to show us how much You love us. With Your mighty power and through his intercession, we seek healing, not just of our physical body but our emotional, mental, social and spiritual health as well. In keeping with Your greatest commandment, we will love You with all our heart, with all our mind, with all our soul and with all our strength. We will also love our neighbor as we love ourselves. Amen.
Conclude with the Our Father, Hail Mary, and Glory Be prayers.
Day 2
Dear Saint John Paul, you preached: "I plead with you, never, ever give up on hope. Never doubt, never tire, and never become discouraged. Be not afraid." With your help, I will not give up hope. I will be trusting, confident, persistent and unafraid in prayer.
God, our Father, grant us the peace we seek when confronted with different obstacles each day. Guide us so we won't falter in our steps. May peace always reign in our hearts even if there is fear that we might fall flat on our face.
We will not be anxious, but will have faith that is unwavering like that of Saint John Paul II. We will do whatever is true, honorable, just, pure, lovely and gracious in Your eyes, so that Your peace may abide in our hearts always. Amen.
Conclude with the Our Father, Hail Mary, and Glory Be prayers.
Day 3
Dear Saint John Paul, you preached: "Have no fear of moving into the unknown. Simply step out fearlessly knowing that I am with you and therefore no harm can befall you. All is very, very well. Do this in complete faith and confidence."
What more can I say, but thank you for your confidence in me. Help me to have complete faith in God. Stand with me at all times as my intercessor and spiritual guide until I attain the great treasure of Heaven.
Dear Jesus, Son of the living God, we rejoice because we believe that through the intercession of Saint John Paul II, our healing is near at hand. We are joyful in our ways and our speech for we know that You will always comfort us as a mother comforts her children.
We thank you for the joy You've given us when You were born into our world, because You became one of us in all things but sin. You endured tremendous suffering for our sake, so that we will be saved from our sins. Turn our mourning into rejoicing because of Your resurrection from the dead. Amen.
Conclude with the Our Father, Hail Mary, and Glory Be prayers.
Day 4
Dear Saint John Paul, just like St. Paul the Apostle who described his journey as a race, you tell me that life with Jesus is a wonderful adventure. Life is not a sprint for me, but rather a winding marathon with its curves and its ups and downs. Help me by being with me at all times as I struggle in this race toward the fullness of life in Christ.
God the Holy Spirit, grant us wisdom and knowledge as we wait patiently for the healing You promised. May our families be blessed with patience in helping us cope with illness and other problems.
During his lifetime, Saint John Paul was a living testimony of how much God loves us through his patience in dealing with every religious or political leader around the world, as well as with the severe sicknesses that afflicted him. We believe that as long as love reigns in our hearts each day, we will be healed, for "Love is patient and kind." Amen.
Conclude with the Our Father, Hail Mary, and Glory Be prayers.
Day 5 
Dear Saint John Paul, you preached: "Do not abandon yourselves to despair. We are the Easter people and Hallelujah is our song." Help me to be joyful in this wonderful adventure of life. Help me always to have true Christian joy in my heart, mind and spirit. Help me always to be faithful to the Will of God in my life.
Through God's loving grace and kindness, we have been blessed with the great kindness shown by the people who take care of us, like our family, friends, relatives, caregivers, physicians, rehabilitation specialists, nutritionists and spiritual advisers. Saint John Paul II manifested incredible love, kindness and forgiveness to the man who tried to assassinate him. We believe that we will be healed if we forgive those who have wronged us, and if we extend a helping hand to our least sisters and brothers living in distress, poverty and need. Amen.
Conclude with the Our Father, Hail Mary, and Glory Be prayers.
Day 6
Dear Saint John Paul, you preached: "Love your families. Teach them the dignity of life. Teach them the ways of harmony and peace. Teach them the value of faith and prayer and goodness! Help transform the world around you by giving the best of yourselves in the service of others and your country." Just as Christ taught us, you preached and live the Golden Rule: "Do unto others as you would have them do to you." How simple it is to hear this, but how incredibly difficult, at times, to do this. Be with me, and help me see God in my neighbor and in all those I find difficult to love or accept.
Dear Lord, throughout my lifetime, I have been taught to be a good person and to be a blessing to others. To be good is not just to follow the rules, but more so, to follow You and obey Your commandments. May I bring harmony and peace to others, and spread Your good news to my family, my friends, my community and my country.
Saint John Paul II made Your goodness known throughout the world by welcoming and embracing everyone who sought Your presence, regardless of age, gender or creed. Through Your goodness and mercy, we will receive the healing we seek through the intercession of Saint John Paul II. Amen.
Conclude with the Our Father, Hail Mary, and Glory Be prayers.
Day 7
Dear Saint John Paul, you preached: "The goal and target of our life is He, the Christ who awaits us – each one singly and all together – to lead us across the boundaries of time to the eternal embrace of the God who loves us."
Help me, dear Saint John Paul, to remember that life with God is the highest and greatest of all goals. In every moment of my life, help me to be focused on my relationship with Christ, so that when my earthly journey ends, my eternal life with Jesus will begin.
God the Father, in humility we offer our lives to You in the service of others. May we be like Saint John Paul II in proclaiming our faith and trust in You, so we will be blessed and can fulfill our Christian vocation. It is through our weakness and illness that You have touched our lives, and we now seek Your goodness and mercy to be healed. Amen.
Conclude with the Our Father, Hail Mary, and Glory Be prayers.
Day 8
Dear Saint John Paul, you preached: "People are made for happiness. Rightly, then, you thirst for happiness. Christ has the answer to this desire of yours. But He asks you to trust Him. True joy is a victory, something which cannot be obtained without a long and difficult struggle. Christ holds the secret of this victory. . . In order to sing God's praises we must re-learn the language of humility and trust, the language of moral integrity and of sincere commitment to all that is truly good in the sight of the Lord."
Once again, in simple words, you teach us that nothing is more important than life with Christ.
Lord, Jesus Christ, grant me the gift of a humble heart so that I can respond to Your call to take up the Cross and follow You each day as Your disciple. I will strive to preserve the unity in my household through my actions of peace and understanding. Through the intercession of Saint John Paul II, please grant me the gift of healing that I earnestly implore. Amen.
Conclude with the Our Father, Hail Mary, and Glory Be prayers.
Day 9
Dear Saint John Paul, the surest, straightest road to Christ is through His Holy Mother. When I am lost and confused in life, lead me to place myself before Our Blessed Mother, asking her to rescue me to faithfully live the spiritual path that leads to her Divine Son. Teach me to have in my heart the same great love you had for our Blessed Mother.
Dear Lord, You are the Greatest Healer. Everything I have comes from You: my life, my health, my family, my friends, my possessions and all that truly matters. I surrender them all to You as I search for meaning and purpose in all that is happening to me. I claim complete healing of my mind, body, heart and soul. I claim healing for those who are suffering and are lost. I claim healing for my family. I claim financial blessings so I can be a blessing to others. Grant me the patience to confidently accept Your answer to my prayers, whether it be yes, no or wait. All I ask I place before You in Jesus' name. Amen.
God, the Holy Spirit, help us to be models of good deeds in every respect by being temperate, dignified, self-controlled and sound in faith, love and charity. May we control our temper and hold our tongue, especially when we grow impatient and are in pain. May we be like Saint John Paul II who was an outstanding model of self-control, dignity and unwavering faith. Amen.
Conclude with the Our Father, Hail Mary, and Glory Be prayers.
✠
Day of Prayer for Life – Sunday 3rd October
'God did not make us for death
but for life. When we touch the
mystery of death in prayer,
thought or experience, it leads us
into the greater mystery of the
eternal life of the Father, Son and
Holy Spirit. Through our Baptism
we have already begun to live this
life. We have entered into the
mystery of death which Christ, by
his resurrection, has changed
forever. In him, death is no longer
our end but our 'Passover' into a
truth and a life we cannot even
begin to imagine because it is a
life forever beyond the experience
of death.'
(I Cor 13:12; 15:42-44; 1 Jn 3:2)
NEW GUIDELINES FOR ATTENING THE CHURCH
The Government recently announced new Covid public measures some of which came into force on the 6th September. These new measures have allowed for an increase in the number of people that can attend ceremonies within our church. As an initial step to increase the capacity within the church, while ensuring your safety, maintaining social distancing, and giving people time to adjust to the new normal we have decided to increase the church capacity gradually over the coming weeks.
Initially:
Every second pew will be available for use. This will happen over the coming days
We will maintain a max of three people per pew or a family
People will still be required to wear face masks and to sanitise their hands on entering the church
Communion will continue to be distributed to people in their pews to reduce movement in the church and
Separate entry and exit doors will remain in place.
We thank you for you cooperation over the last 18+ months and we look forward to seeing greater numbers gathering for various religious ceremonies.
Confessions: Saturdays after 10a.m. Mass & from 6p.m. – 6.20p.m. before the Vigil Mass
Sunday: Vigil mass at 6:30 pm Saturday and 9 am, 10:30 am & 12 Noon Sunday morning.
 These Masses will be streamed on the parish webcam and the parish radio.
The Parish Office is open 018380265 – Please call if you need anything.
Open for drop-in- one person only at a time.
The church is open for private prayer as per the following schedule:
Monday to Friday after the 10 am morning Mass until 4 pm
Saturday after the 10 am morning Mass until 4 pm
The Church will remain open after 12 Noon Mass on Sundays until 4p.m.
When you are visiting the church for private prayer we ask that you follow HSE guidelines with regard to social distancing, sanitizing your hands and wearing face masks is essential.
We ask that in the interest of hygiene and the safety of ALL parishioners that you do not handle or kiss the many statues around the Church, the Altar or any other items in the Church.
Stay Safe and God Bless
A Prayer of Blessing for Grandparents
Heavenly Father, bless my grandparents.
Thank you for the life they gave my parents
and for the life, they give to me.
For the ways they helped me and made me strong, I give thanks.
For the ways, they love me no matter what, I rejoice.
For the ways, they have paved the road
that leads me here, I am grateful.
Let them grow in wisdom and joy in life.
Let them find peace and rest from their work.
Let them be healed of every sickness and pain.
And let them see with their own eyes your glory
and the love of their children and grandchildren.
Bless them always. Amen
St. Joachim and St. Anne, pray for us.
Amoris Laetitia Family Year 2021-2022                       
One of the multimedia initiatives for the 'Amoris Laetitia Family Year' will be a new series of monthly videos. Each month, the Holy Father, Pope Francis, will explain the chapters of The Joy of Love (Amoris Laetitia) alongside families who will share witness and testimony by sharing aspects of their daily lives. The first video is now available to view below or by clicking https://youtu.be/ug7VC5iCydQ
It is inspired by this phrase from Amoris Laetitia:  "Let us make this journey as families, let us keep walking together. What we have been promised is greater than we can imagine. May we never lose heart because of our limitations, or ever stop seeking that fullness of love and communion which God holds out before us." (AL 325)
Prayer Cards, Mass Leaflets & Other Prayer Resources: Are available on Church tables.
PRAYER FOR SPIRITUAL COMMUNION
My Jesus,
I believe that you are present in this Holy Sacrament of the altar.
I love you above all things
and I passionately desire to receive you into my soul.
Since I cannot now receive you sacramentally,
come spiritually into my soul
so that I may unite myself wholly to you now and forever.
Amen.
Support Services
Aware – Support & Self Care Groups
As we all know, during Level 5 lockdown, many people are experiencing additional feelings of isolation, anxiety and distress as well as other challenges with their mental health.  If you, or those with whom you work wish to connect with people in relation to your mental wellbeing, please consider using the Phone In and Zoom Support & Self Care Groups, the Support Line or Support Mail, now and throughout the holiday season. These services provide support, coping skills and information – and most importantly help people who are in distress to know and feel that they are not alone in their experience.  For more information about the groups https://www.aware.ie/support/support-groups/ and all of our services on www.aware.ie

Accord Dublin  has a new website.  For Sacramental Marriage Preparation Courses or for Marriage Relationship Counselling
Please visit www.accorddublin.ie
Special collection 13th & 14th February is in aid of ACCORD
SAINT VINCENT DE PAUL -Local Conference
Due to the Covid -19 crisis, the local conference of SVP is unable to hold the monthly gate collection, which is our source of income. If you would like to support the work of St. Vincent de Paul at this time, please drop your donation into the Parish Office. Your ongoing support is much appreciated. Thank You
Prayers To Say Before The Blessed Sacrament
COVID-19 community supports are now in place to ensure vulnerable members of the community are reached and helped at this time.
These comprise the local authority, Health Service Executive, County Champions, An Post, Community Welfare Service, An Garda Síochána, other State organisations, charities and other stakeholders.
These Dedicated helplines are focused specifically on ensuring that the cocooning elderly, vulnerable members of the community or those living alone can access deliveries of groceries, medicine and fuels.
Please try to ensure any vulnerable or elderly people in your parish help are aware of these services.
Dublin City Council
Helpline 01-2228555
Email – covidsupport@dublincity.ie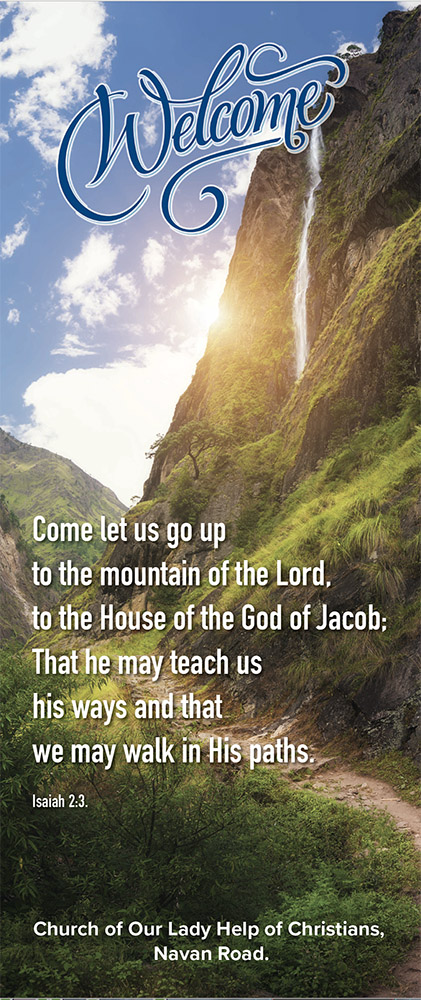 Please click on image to view Webcam for this service. Mass times may vary.