Welcome to the website of the parish of Our Lady Help of Christians, Navan Road, Dublin. Registered Charity Number 20016166. The parish is part of a Grouping of Parishes with the parishes of Most Precious Blood Cabra, Christ the King Cabra and St. Peter's Phibsborough, in the Archdiocese of Dublin.
SECOND SUNDAY OF ADVENT- 5th December
The 2nd Sunday of Advent symbolizes FAITH with the "BETHLEHEM CANDLE " reminding us of Mary and Joseph's journey to Bethlehem.  (Purple Candle)
The second week of Advent has the meaning of FAITH and LOVE. In this second week the second purple candle is lit, reminding us to remain faithful to prepare the way for the coming of the Lord. We are required to prepare our hearts and love for the coming of Christ.
The second candle is called the Bethlehem Wax which means that our Savior Jesus Christ will be born in our hearts.
As it is written in the book of the words of Isaiah the prophet:
"A voice of one calling in the wilderness,
'Prepare the way for the Lord,
make straight paths for him.
Every valley shall be filled in,
every mountain and hill made low.
The crooked roads shall become straight,
the rough ways smooth.
And all people will see God's salvation."
(Luke 3: 4-6)
FIRST SUNDAY OF ADVENT – 28th November
CHRISTMAS TIMETABLE 2021
Due to Covid-19 there will be no Penitential Service                                                                       Confessions: Saturdays: 4th, 11th & 18th Dec. 10.30 a.m. to 11.00 a.m. (Unless there is a funeral) Christmas Eve Friday 24th Dec: 10.30a.m. – 12 Noon, 2p.m. – 4p.m.
 It is possible join us online through our webcam to participate in our Christmas Masses www.navanroadparish.com or through the parish radio.
All Masses will be aimed at the families of our community.
CHRISTMAS MASSES: Entry to ALL MASSES is on a first come, first served basis.
Numbers in the Church at each Mass will be higher than last year but due to social distancing will still be limited.
Christmas Eve. Friday 24th:  6.30p.m. & 9.p.m.
Christmas Day Saturday 25th: 9.00a.m. 10.30a.m. & 12 noon.
SUNDAY 26th: Feast of The Holy Family of Jesus, Mary & Joseph.
MASSES: No Vigil, 9.00 a.m. 10.30 a.m. & 12 Noon.
PARISH OFFICE
The Parish Office will be closed from Thursday 23rd December to Monday 3rd January 2021 (incl)
It will re-open on Tuesday 4th January at 9.00 a.m.
NOVEMBER ALTAR LIST OF THE DEAD
All on the November Altar Lists Of The Dead are prayed for on every First Friday throughout the year. (Envelopes are available on the Church tables
Close to You Prayer
Father of Enduring Faithfulness, as a believer in Christ, to be away from the body is to be with you. I know that my loved one is with you right now in heaven, enjoying your closeness. Lord though it is difficult to accept that they are gone, I know that you love them so much and that is why you took them. Jesus may they bask in your glory as we all wait for you to come back and take us all into your presence where there is no mourning and sorrow. I pray this, trusting and believing. Amen.
Fill the Gap Prayer
Jesus, my Savior, times and seasons are in your able hand. You know when we will be born and when we will leave this earth and come back home. You knew that our loved one would not be with us today. We want to praise you for the time we had with them. As we go through this mourning season, Lord, we pray that you give us a deep sense of peace. We know that no one can ever take the place of our loved one, that is why we are asking you to fill the gap that our loved one has left in our lives with your love. May we find comfort in you alone. In Jesus' holy name. Amen.
Lord God,
Whose days are without end
And whose mercies beyond counting, keep us mindful
That life is short and the hour of death unknown.
Let your Spirit guide our days on earth
In the ways of holiness and justice,
that we may serve you in union with the whole Church,
sure in faith, strong in hope, perfect in love.
And when our earthly journey is ended
Lead us rejoicing into your kingdom,
Where you live for ever and ever. AMEN    OCF,332
WORLD MISSION SUNDAY 24th OCTOBER- Thank you for your very generous contribution totalling €2,415 to the special collection.
We Cannot Remain Silent-"We cannot but speak about what we have seen and heard" Acts 4:20
DIOCESAN SYNODAL PATHWAY
Archbishop Dermot Farrell launched the Diocesan Synodal Pathway at a Ceremony in St. Mary's Pro-Cathedral on Sunday 17th October. This Synodal process will take place from October 2021 to March 2022.
We pray that here in the Parish of Our Lady Help of Christians you will join us on this voyage.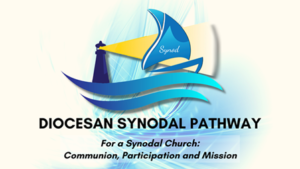 This Logo for the Archdiocese Synodal path is inspired by the phrase
'We are all in the same boat'
The lighthouse represents the guiding light of The Holy Spirit
The boat represents the Church, the People of God journeying together
The water represents the waters of baptism and the equality of all baptised.
PRAYER FOR THE SYNOD:
Adsumus Sancte Spiritus
We stand before You, Holy Spirit,
as we gather together in Your name.
With You alone to guide us, make Yourself at home in our hearts;
Teach us the way we must go and how we are to pursue it.
We are weak and sinful;
do not let us promote disorder.
Do not let ignorance lead us down the wrong path nor partiality influence our actions.
Let us find in You our unity
so that we may journey together to eternal life and not stray from the way of truth
and what is right.
All this we ask of You,
who are at work in every place and time, in the communion of the Father and the Son,
forever and ever.
Amen.
Every session of the Second Vatican Council began with the prayer Adsumus Sancte
Spiritus, the first word of the original Latin, meaning, "We stand before You, Holy Spirit," which
has been historically used at Councils, Synods and other Church gatherings for hundreds
of years, and is attributed to Saint Isidore of Seville (c. 560 – 4 April 636). As we embrace this
Synodal Process, this prayer invites the Holy Spirit to be at work in us so that we may be a
community and a people of grace. For the Synodal pathway from 2021 to 2023, we will use this
prayer.
'Communion, participation and mission are technical terms, often used in Church
language. The following helps us to understand what this is.
Communion – Sharing God's life with God and each other.
God shares his life with us so that we can experience this and share it with others. At
baptism we share in the life of the Father, Son and Spirit. Sharing what gives us life is
then an essential part of our call as Christians. Just as God shares his life respecting our
freedom, so we too are called to share in an environment that respects freedom, aware
that God is with us.
Participation – Taking our part.
Through our baptism we are called to take our part in building each other up. In a
synodal Church the whole community, in the free and rich diversity of its members, is
called together to pray, listen, analyse, dialogue, discern and offer advice on making
pastoral decisions which correspond as closely as possible to God's will. In encouraging
participation, our efforts to include others must be genuine as we invite those who feel
they are on the margins to also take their part.
Mission – We are sent out to tell others about the Good News.
All of the baptized are invited to go out to others because the Church exists to proclaim
the Good News. For this reason, Pope Francis reminds us that the Church cannot be
centred inwards on itself. The dynamic of a synodal path enables the Church to better
witness to the Good News. Pope Francis is inviting us particularly to reach out to those
who live on the spiritual, social, economic, political, geographical peripheries of our
world.
Day of Prayer for Life – Sunday 3rd October
'God did not make us for death
but for life. When we touch the
mystery of death in prayer,
thought or experience, it leads us
into the greater mystery of the
eternal life of the Father, Son and
Holy Spirit. Through our Baptism
we have already begun to live this
life. We have entered into the
mystery of death which Christ, by
his resurrection, has changed
forever. In him, death is no longer
our end but our 'Passover' into a
truth and a life we cannot even
begin to imagine because it is a
life forever beyond the experience
of death.'
(I Cor 13:12; 15:42-44; 1 Jn 3:2)
NEW GUIDELINES FOR ATTENDING THE CHURCH
New measures have allowed for an increase in the number of people that can attend ceremonies within our church. As an initial step to increase the capacity within the church, while ensuring your safety, maintaining social distancing, and giving people time to adjust to the new normal we have decided to increase the church capacity gradually over the coming weeks.
Initially:
Every second pew will be available for use. This will happen over the coming days
We will maintain a max of three people per pew or a family
People will still be required to wear face masks and to sanitise their hands on entering the church
Communion will continue to be distributed to people in their pews to reduce movement in the church and
Separate entry and exit doors will remain in place.
We thank you for you cooperation over the last 18+ months and we look forward to seeing greater numbers gathering for various religious ceremonies.
Confessions: Saturdays after 10a.m. Mass & from 6p.m. – 6.20p.m. before the Vigil Mass
Sunday: Vigil mass at 6:30 pm Saturday and 9 am, 10:30 am & 12 Noon Sunday morning.
 These Masses will be streamed on the parish webcam and the parish radio.
The Parish Office is open 018380265 – Please call if you need anything.
Open for drop-in- one person only at a time.
The church is open for private prayer as per the following schedule:
Monday to Friday after the 10 am morning Mass until 4 pm
Saturday after the 10 am morning Mass until 4 pm
The Church will remain open after 12 Noon Mass on Sundays until 4p.m.
When you are visiting the church for private prayer we ask that you follow HSE guidelines with regard to social distancing, sanitizing your hands and wearing face masks is essential.
We ask that in the interest of hygiene and the safety of ALL parishioners that you do not handle or kiss the many statues around the Church, the Altar or any other items in the Church.
Stay Safe and God Bless
A Prayer of Blessing for Grandparents
Heavenly Father, bless my grandparents.
Thank you for the life they gave my parents
and for the life, they give to me.
For the ways they helped me and made me strong, I give thanks.
For the ways, they love me no matter what, I rejoice.
For the ways, they have paved the road
that leads me here, I am grateful.
Let them grow in wisdom and joy in life.
Let them find peace and rest from their work.
Let them be healed of every sickness and pain.
And let them see with their own eyes your glory
and the love of their children and grandchildren.
Bless them always. Amen
St. Joachim and St. Anne, pray for us.
Amoris Laetitia Family Year 2021-2022                       
One of the multimedia initiatives for the 'Amoris Laetitia Family Year' will be a new series of monthly videos. Each month, the Holy Father, Pope Francis, will explain the chapters of The Joy of Love (Amoris Laetitia) alongside families who will share witness and testimony by sharing aspects of their daily lives. The first video is now available to view below or by clicking https://youtu.be/ug7VC5iCydQ
It is inspired by this phrase from Amoris Laetitia:  "Let us make this journey as families, let us keep walking together. What we have been promised is greater than we can imagine. May we never lose heart because of our limitations, or ever stop seeking that fullness of love and communion which God holds out before us." (AL 325)
Prayer Cards, Mass Leaflets & Other Prayer Resources: Are available on Church tables.
PRAYER FOR SPIRITUAL COMMUNION
My Jesus,
I believe that you are present in this Holy Sacrament of the altar.
I love you above all things
and I passionately desire to receive you into my soul.
Since I cannot now receive you sacramentally,
come spiritually into my soul
so that I may unite myself wholly to you now and forever.
Amen.
Support Services
Aware – Support & Self Care Groups
As we all know, during Level 5 lockdown, many people are experiencing additional feelings of isolation, anxiety and distress as well as other challenges with their mental health.  If you, or those with whom you work wish to connect with people in relation to your mental wellbeing, please consider using the Phone In and Zoom Support & Self Care Groups, the Support Line or Support Mail, now and throughout the holiday season. These services provide support, coping skills and information – and most importantly help people who are in distress to know and feel that they are not alone in their experience.  For more information about the groups https://www.aware.ie/support/support-groups/ and all of our services on www.aware.ie

Accord Dublin  has a new website.  For Sacramental Marriage Preparation Courses or for Marriage Relationship Counselling
Please visit www.accorddublin.ie
Special collection 13th & 14th February is in aid of ACCORD
SAINT VINCENT DE PAUL -Local Conference
Due to the Covid -19 crisis, the local conference of SVP is unable to hold the monthly gate collection, which is our source of income. If you would like to support the work of St. Vincent de Paul at this time, please drop your donation into the Parish Office. Your ongoing support is much appreciated. Thank You
Prayers To Say Before The Blessed Sacrament
COVID-19 community supports are now in place to ensure vulnerable members of the community are reached and helped at this time.
These comprise the local authority, Health Service Executive, County Champions, An Post, Community Welfare Service, An Garda Síochána, other State organisations, charities and other stakeholders.
These Dedicated helplines are focused specifically on ensuring that the cocooning elderly, vulnerable members of the community or those living alone can access deliveries of groceries, medicine and fuels.
Please try to ensure any vulnerable or elderly people in your parish help are aware of these services.
Dublin City Council
Helpline 01-2228555
Email – covidsupport@dublincity.ie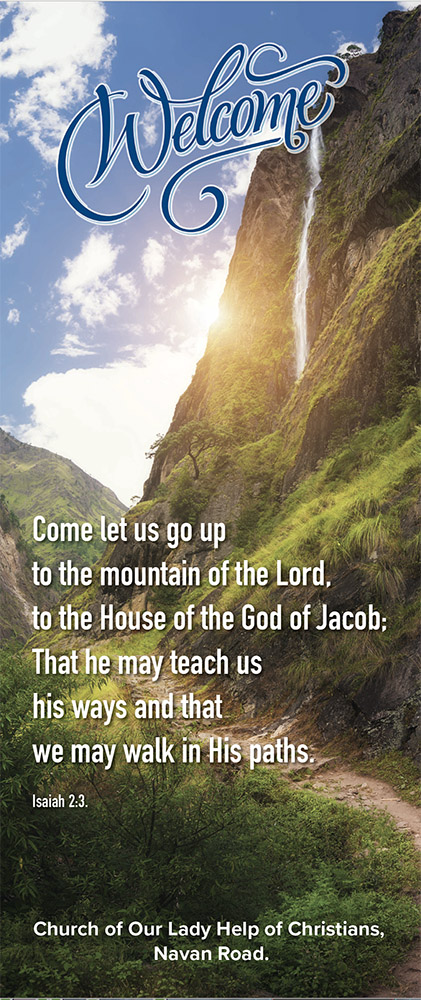 Please click on image to view Webcam for this service. Mass times may vary.